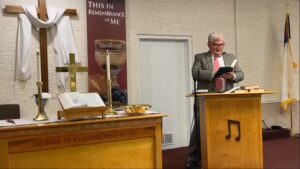 Rev. Jeffrey L. Smith became the Transitional Minister of Suncoast Christian Church (Disciples of Christ) in Myrtle Beach November 1, 2021.
The second son of a military family,  Jeff grew up primarily in the Southeast settling in Cleveland, Tennessee after the death of his father when Jeff was 10.  After graduating from high school, the Navy was his next stop serving as an aircrewman from 1968 until 1971. The next chapter of life was college in Tallahassee and meeting  Elaine, who were married in 1973.
After college and graduate school in Florida and Nashville, Jeff and Elaine moved to Atlanta for their first jobs after college. In 1978 Matthew was born to them and in 1979 Jeff enrolled in Seminary in Lexington, KY.
While there the family grew with the birth of Meredith in 1981.
The years of ministry saw the Smith family serving in KY, AL, GA, Ft. Benning, IN , FL before Jeff's retirement from full- time ministry in 2018.